Lean Green Flour Blend
Regular price

Rs. 1,403
Rs. 1,650

Sale price
White Chickpeas, Spinach, Lentil | Low GI | Diabetic friendly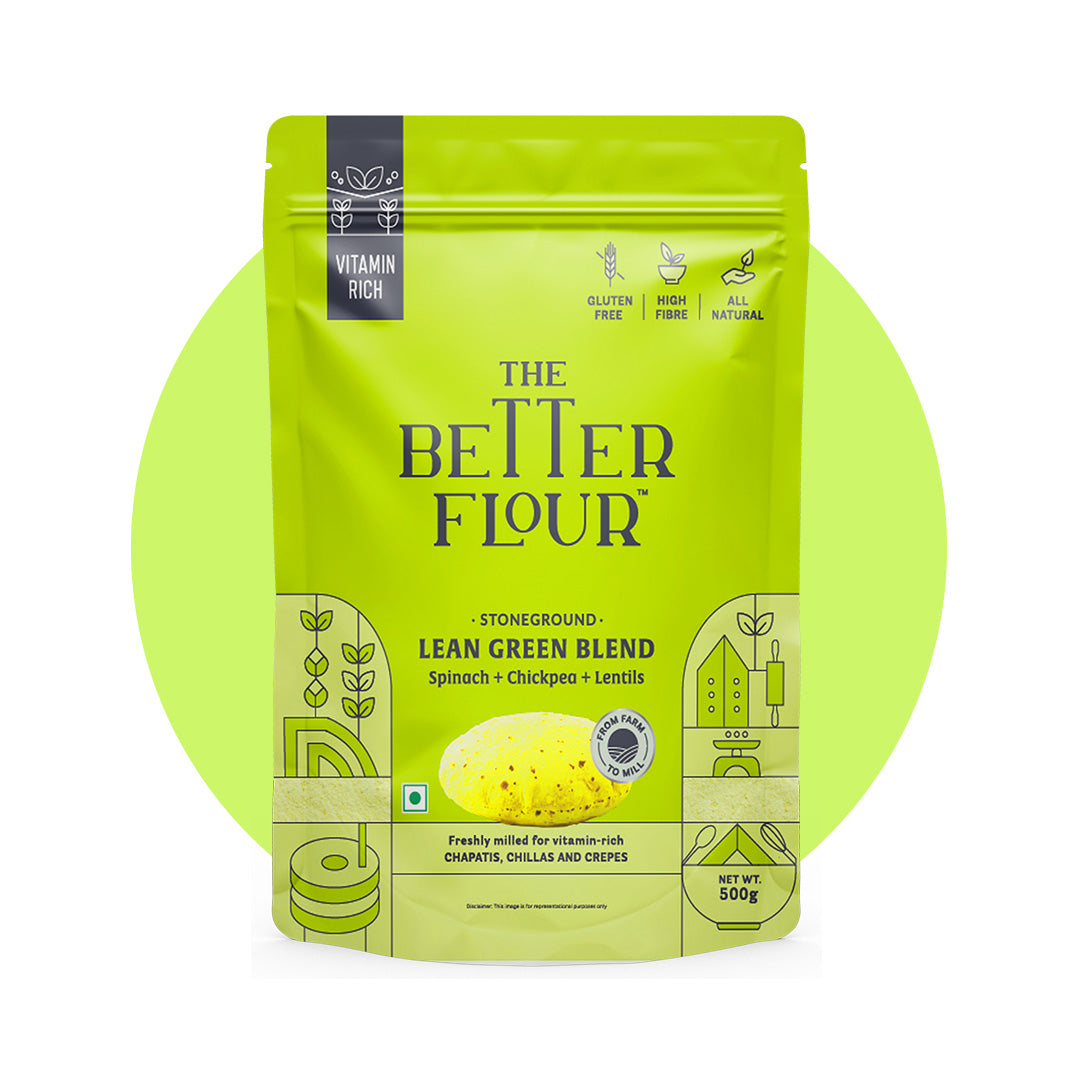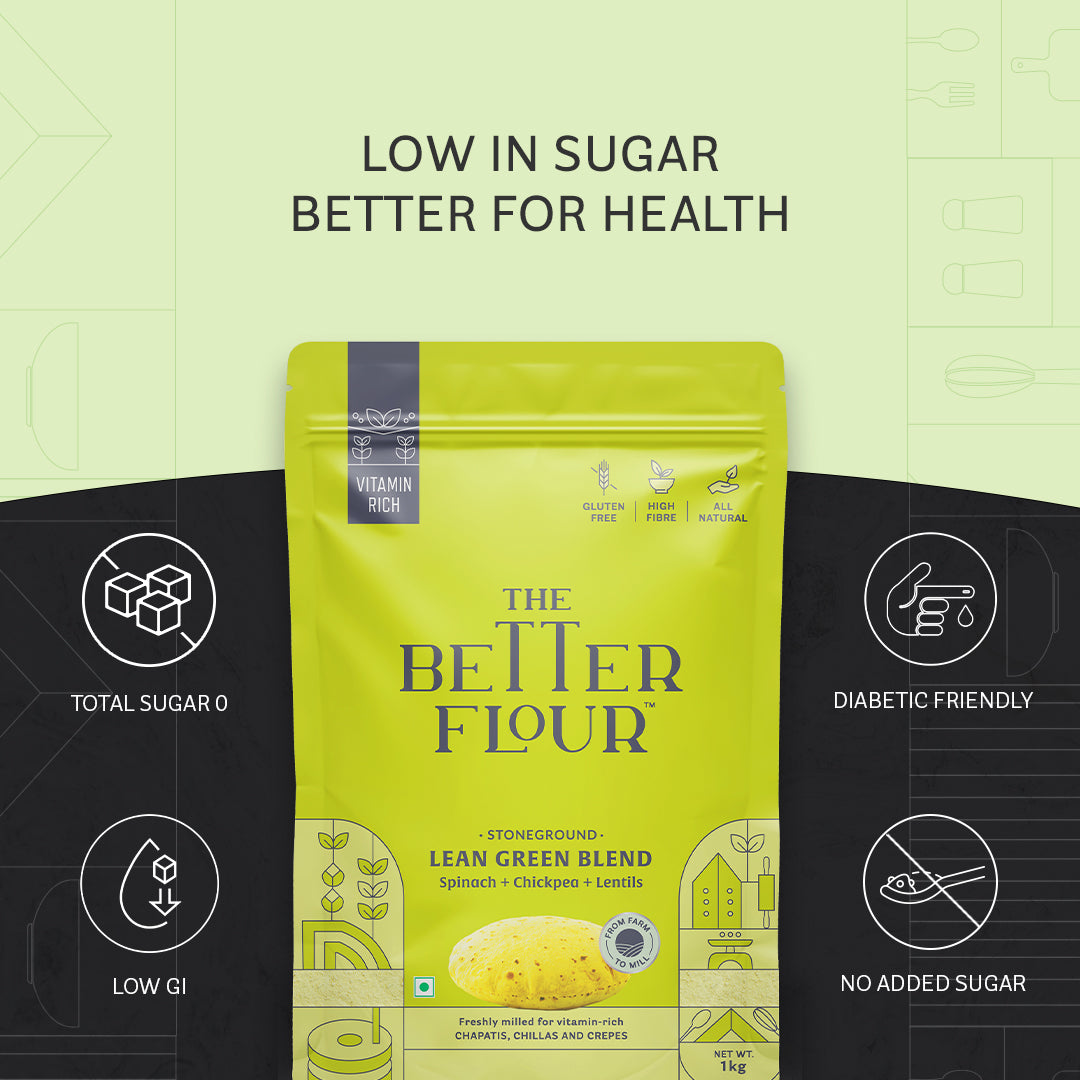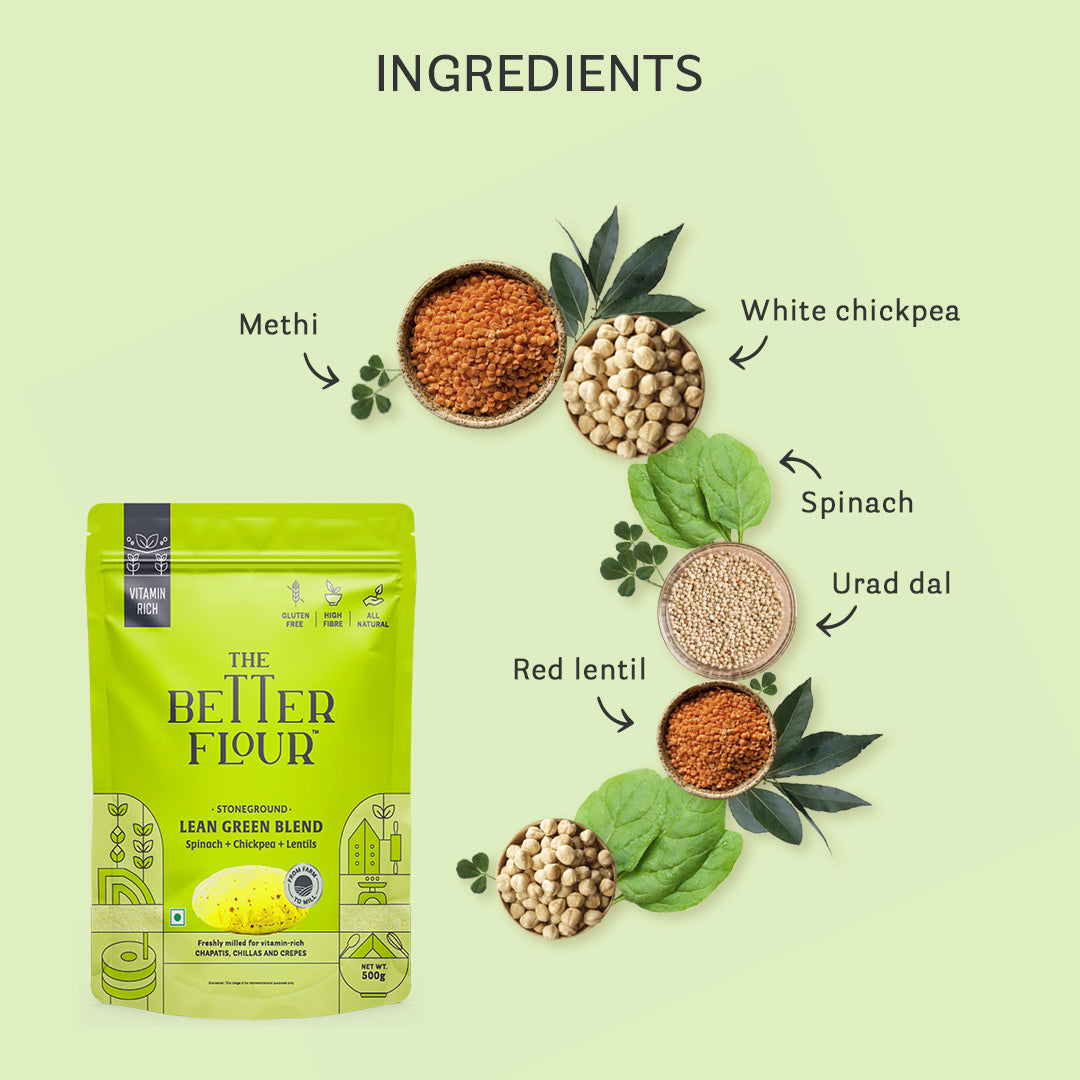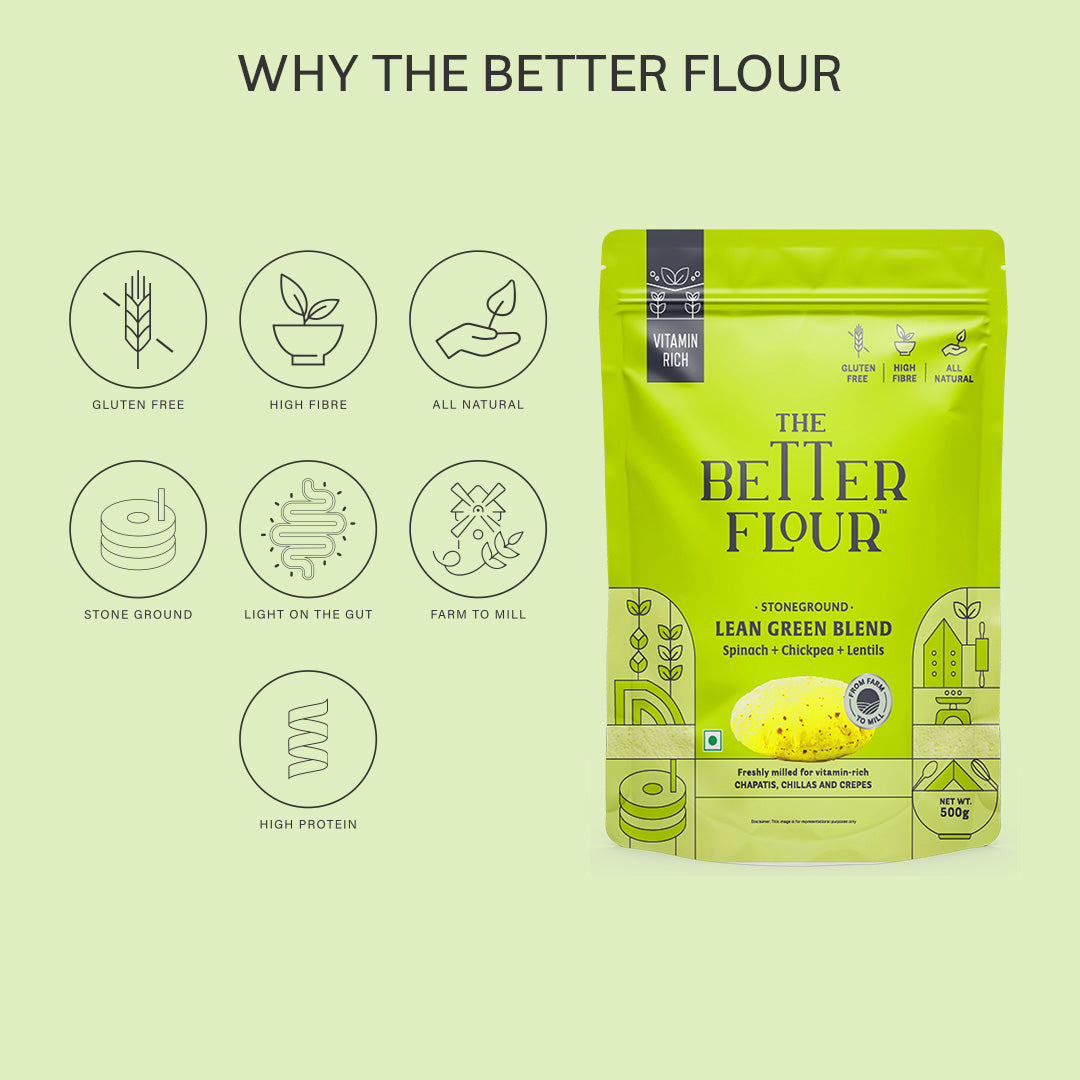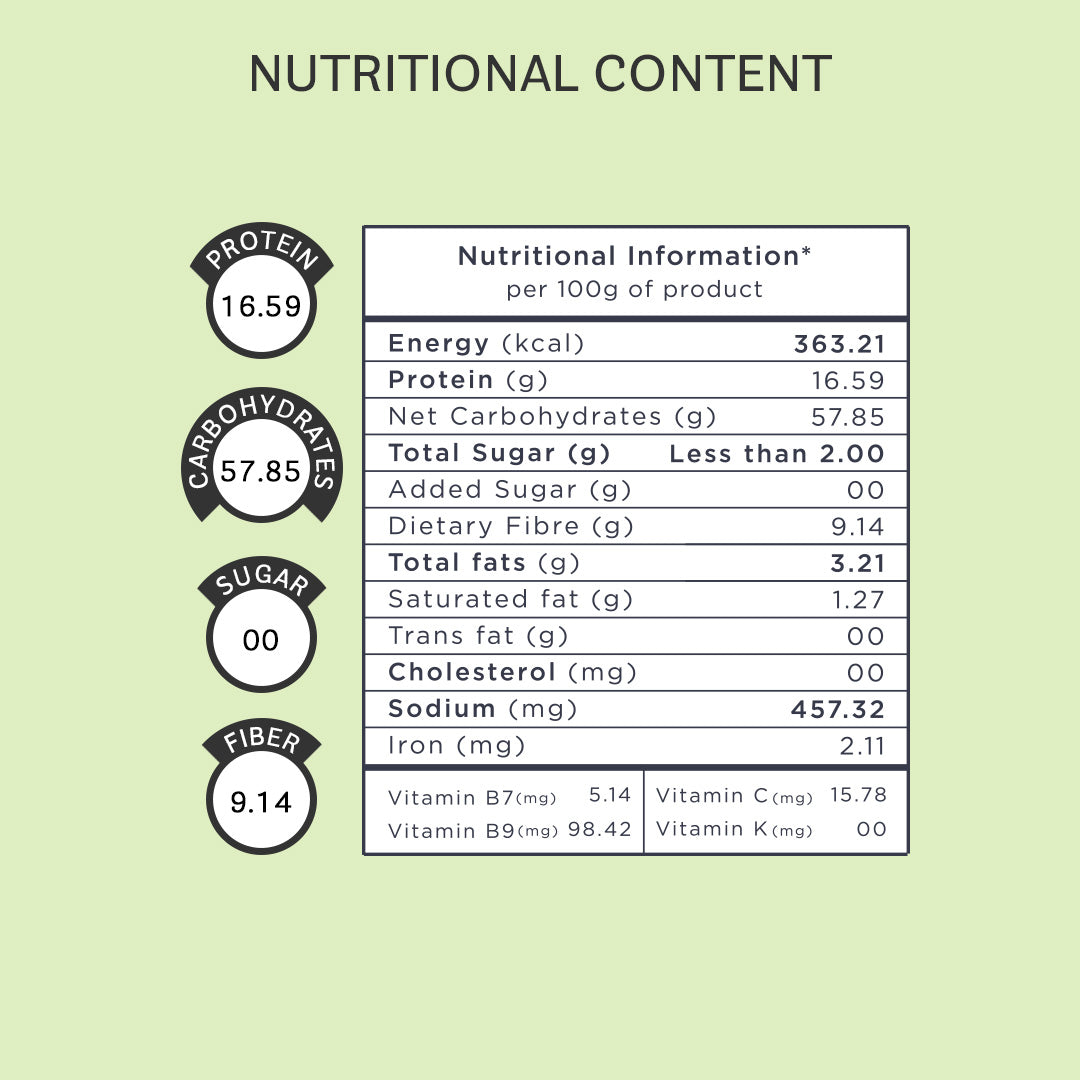 Description

The Lean Green Blend is made up of white chickpeas, spinach and lentils, which are key to a balanced diet. A rich source of vitamins and dietary fibre, spinach is essential for gut health. It has a low glycemic index that helps in regulating blood sugar levels, making it an excellent choice for diabetics.

The versatile flour can be used in a number of ways from vitamin-rich chapatis, chillas, crepes and more. A delicious and easy-to-cook product to better your every day!

Why it's better?

1. Increases immunity
2. Improves digestion
3. Low Glycemic Index helps blood sugar regulation
4. Spinach lowers oxidative stress
5. White Chickpea improves metabolism
6. Lentils help lower cholestrol and protect against diabetes
How to make chapatis

Boil ¾ cup (175 ml) of water for 1 minute

Take 1 cup (128g) of Flour Blend, add hot water and mix it well with a wooden spatula

Set aside for 5 to 10 minutes

Knead the flour into a dough and allow it to rest for 15 to 20 minutes

Roll the dough into chapatis

Cook both sides of the chapati on a pan

Briefly place it over the flame to let it puff up
Ingredients

Lean Green Blend:

White Chickpeas, Sorghum, Rice, Urad Dal, Red Lentils, Dehydrated Spinach Powder, Dehydrated Methi Powder, Xanthum Gum, Salt
Information

• Name of the product : Lean Green Flour Blend
• Country of Origin: India
• Name and Address of Manufacturer: Artha Industries, D 6/2, MIDC Phase II, Akola - 444104, Maharashtra, India
• Name and Address of Importer: Better Flour Pvt. Ltd., 509, Shah & Nahar, Off. Dr. E-Moses Road, Worli, Mumbai - 400018, Maharashtra, India
• Net Qty: 250g (Pack of 3) / 500g (pack of 3) / 500g (pack of 5) / 1kg (pack of 3) / 1kg (pack of 5)
• Expiry Date: 8 months from date of manufacturing

It's very healthy as it made of more fibre content with carrot and tomatoes which is different from the regular Flour and most importantly it is absolutely gluten free. I made chapatis and to my surprise they were super soft and highly nutritious and it has given that extra taste to my food. My family also loves it completely given they are now eating healthier flour which is not just tasty but also gut friendly.
Loved this flour, the taste was with a hint of sweetness but loved the overall product and the texture was great too!Must buy :)
I absolutely love the better flour I purchased! The texture is perfect for making soft and delicious chapatis. I appreciate that it's whole wheat atta, which makes it a healthier option for my family. I'm truly satisfied with this purchase and will definitely be buying it again in the future!
I appreciate the emphasis on dietary fiber and the low glycemic index, which contributes to better digestion and helps maintain stable blood sugar levels.It has Emmer wheat, Carrot, and Tomato which makes it super healthier. Also it taste so good and can make rotis, parathas and breads as well. Would recommend it to everyone especially Heart Patients.❤️
This Flour is perfect for People who wants to loose weight as it has low gluten and high fiber contentDefinitely a must try, I loved it
RECIPES MADE BETTER
Inspire your next meal with one of these tasty, healthy recipes.