Chocolate Pancake Mix
Regular price

Rs. 459
Rs. 540

Sale price
White Chickpea, Chocolate | Protein Rich | Improves cognitive health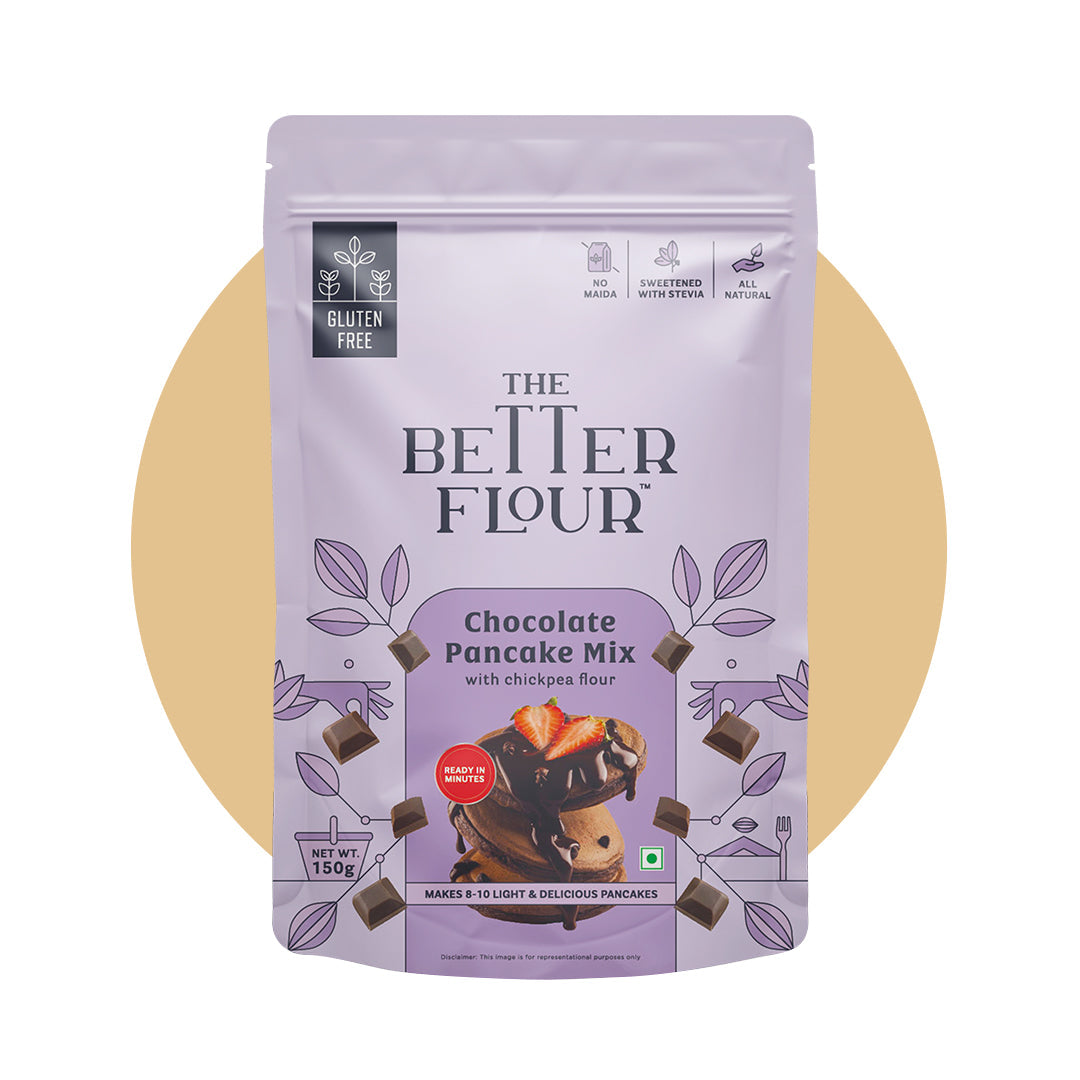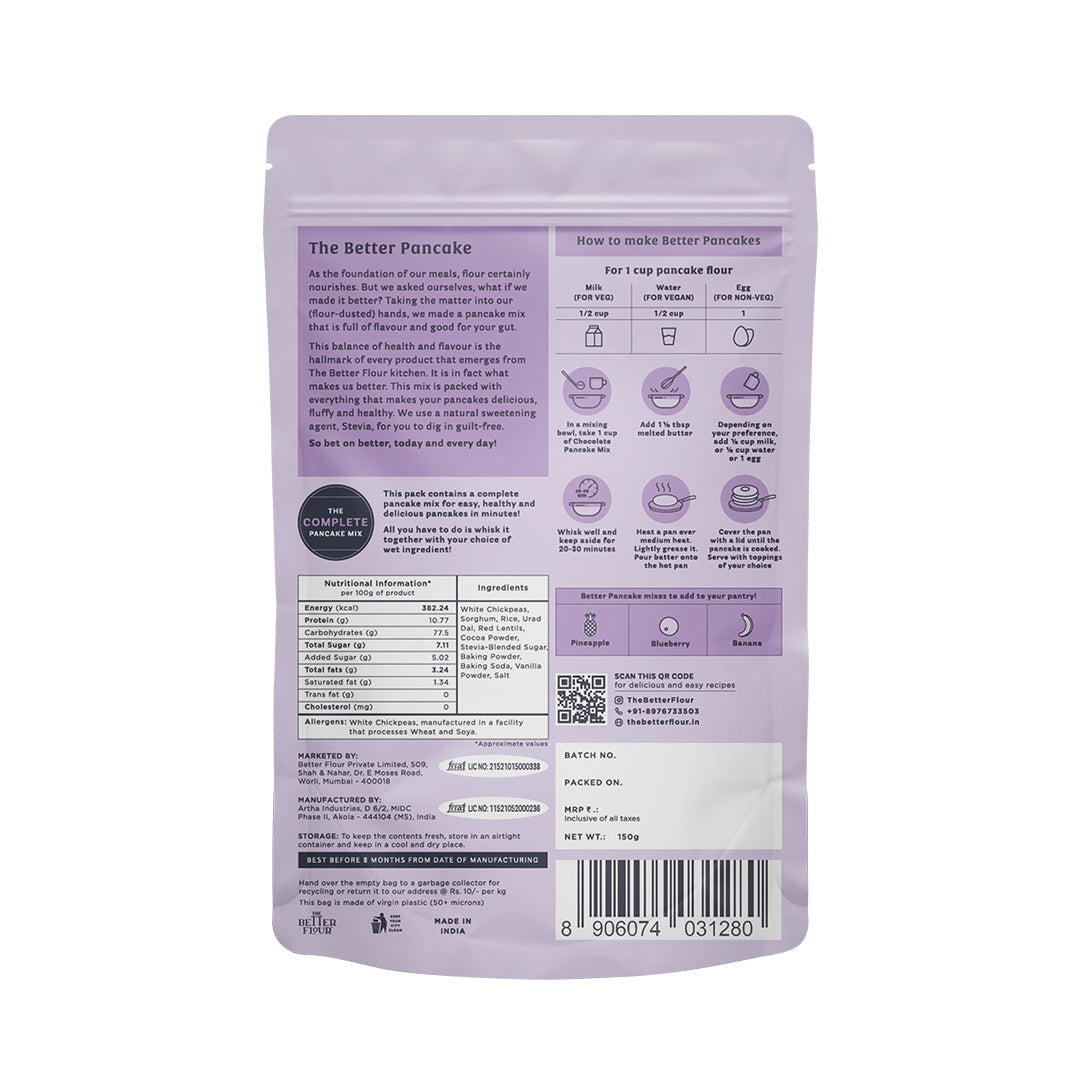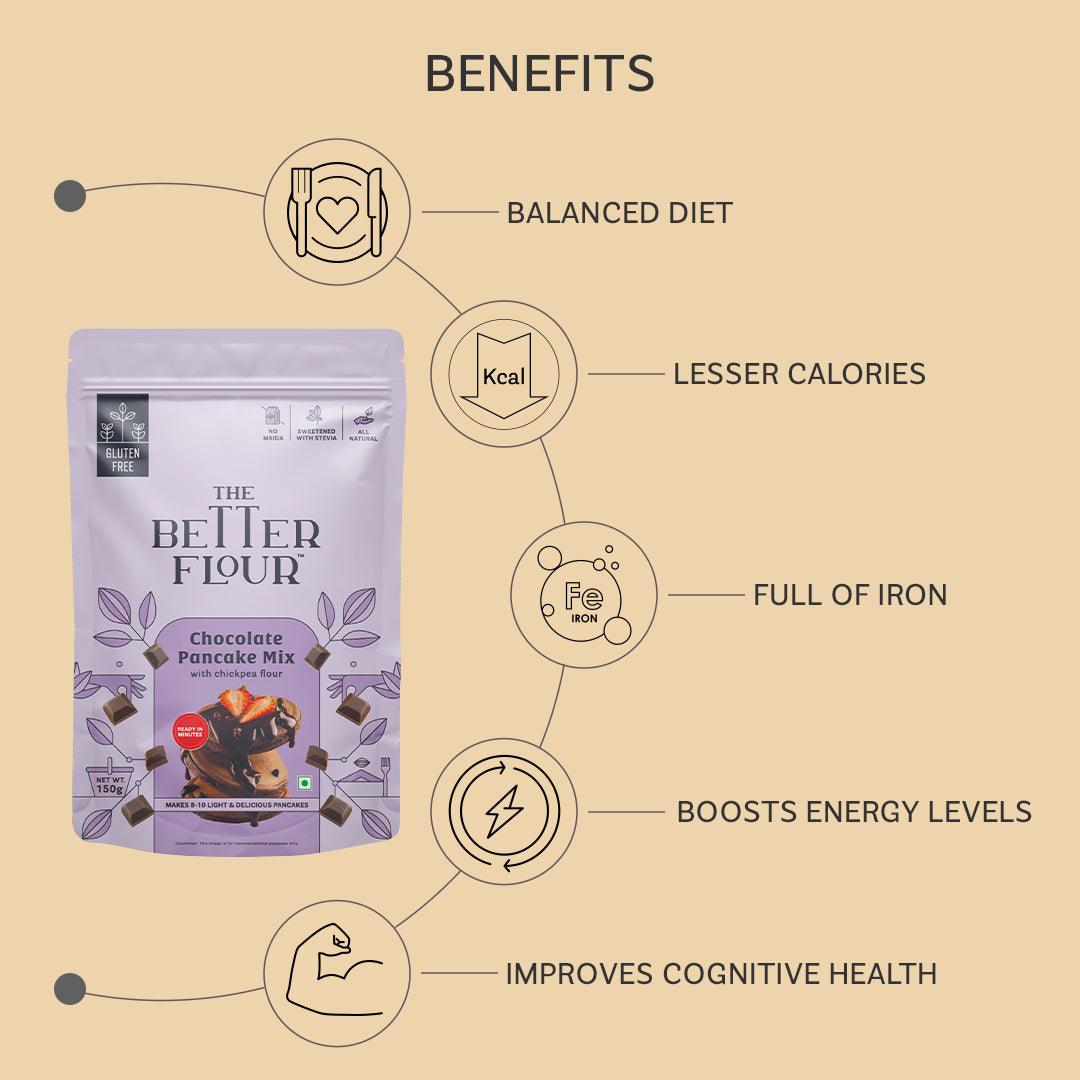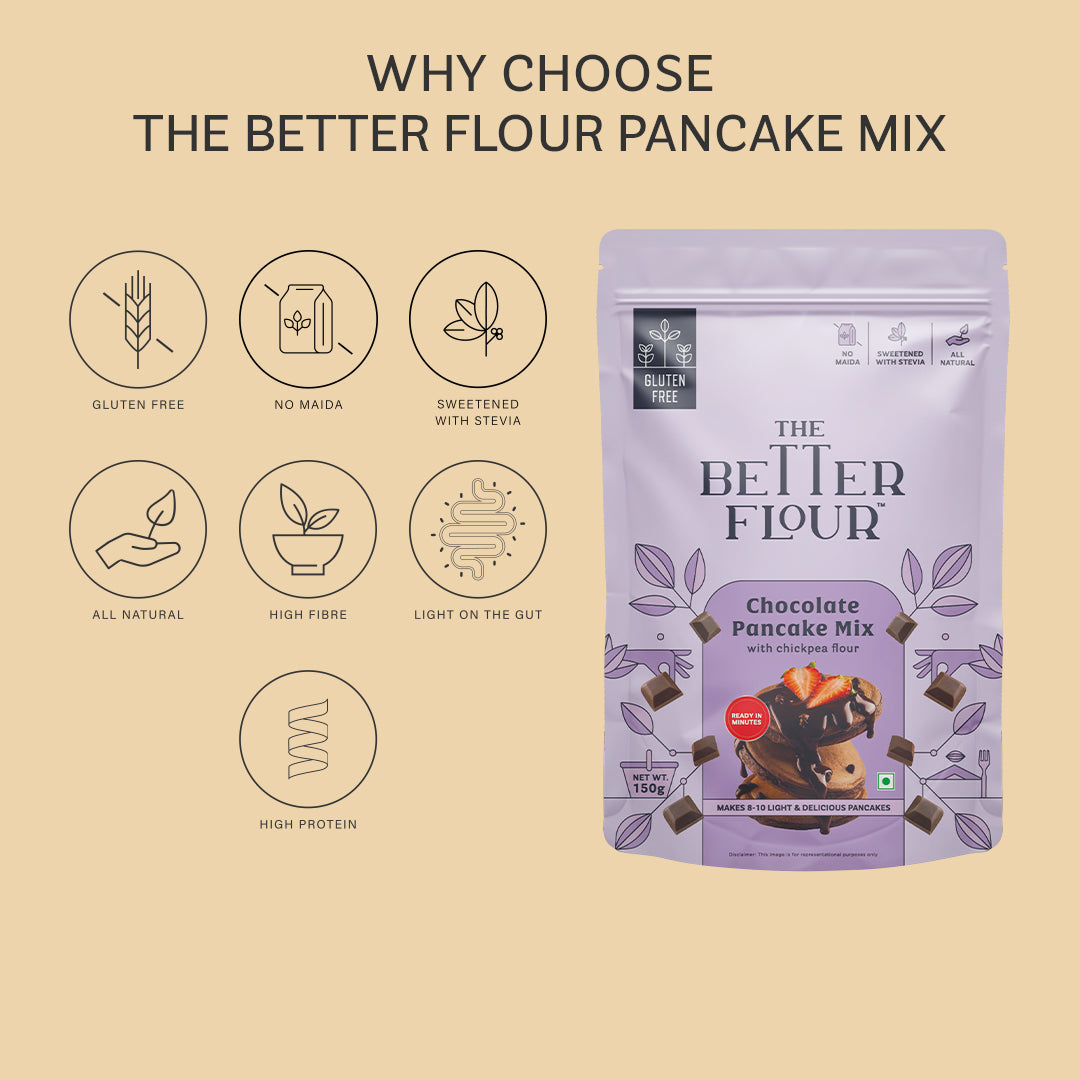 Description

Our Zero-Maida Chocolate Pancake Mix is the complete mix for easy, healthy and delicious pancakes in minutes! All you have to do is whisk it together with your choice of wet ingredient.
Crafted from a blend of all-natural ingredients - white chickpeas, cocoa, rice, sorghum, and red lentils - our gluten-free pancakes will satiate your sweet tooth while providing a healthy, balanced meal. We use Stevia, a natural sweetener so you can dig in, guilt-free! These protein-packed, high-fiber pancakes are made to fuel your daily victories.
Don't want to use it all at once? Our resealable pouch keeps the mix fresh for next time.
How to make pancakes

In a mixing bowl, take 1 cup of the Pancake Mix
Add 1 ½ tbsp. melted butter or oil
Depending on your preference, add ½ cup milk or ½ cup water, or 1 egg
Whisk well and keep aside for 20 to 30 minutes
Heat a pan over medium heat. Lightly grease it. Pour batter onto the hot pan
Cover the pan with a lid until the pancake is cooked. Flip and cook the other side. Serve with toppings of your choice
Ingredients

White Chickpeas: Rich source of protein 

Sorghum: Full of iron 

Rice: Excellent source of manganese 

Urad Dal: High antioxidant properties 

Red Lentils: Great source of B-vitamins

Cocoa:  Improves cognitive health 

Stevia-blend Sugar: Fewer calories than refined sugar
Information

• Name of the product : Chocolate Pancake Mix
• Country of Origin: India
• Name and Address of Manufacturer: Artha Industries, D 6/2, MIDC Phase II, Akola - 444104, Maharashtra, India
• Name and Address of Importer: Better Flour Pvt. Ltd., 509, Shah & Nahar, Off. Dr. E-Moses Road, Worli, Mumbai - 400018, Maharashtra, India
• Net Qty: 150g (pack of 3) / 150g (pack of 5)
• Expiry Date: 8 months from date of manufacturing
Product is very nice and affordable with delicious taste and also easy to make. I really liked the product. Gonna repurchase it.
It was very healthy and tasty product , value for money. Better taste compare with other brands. Must Try it...
These pancakes proved that being healthy can be super delicious too. Loved it 😍❤️ This is my favourite brand 😍
This pancake mix is very easy to make. it turns out to be just as good as you get in restaurants. undoubtedly value for money. Definitely going to buy it again
Product is very nice its a affordable product with delicious taste and also easy to make i really liked the product . Gonna repurchase it . ♥️🫶🏻