Regular price

Rs. 755
Rs. 885

Sale price
White Chickpeas, Beetroot, Sorghum | Low GI | Diabetic friendly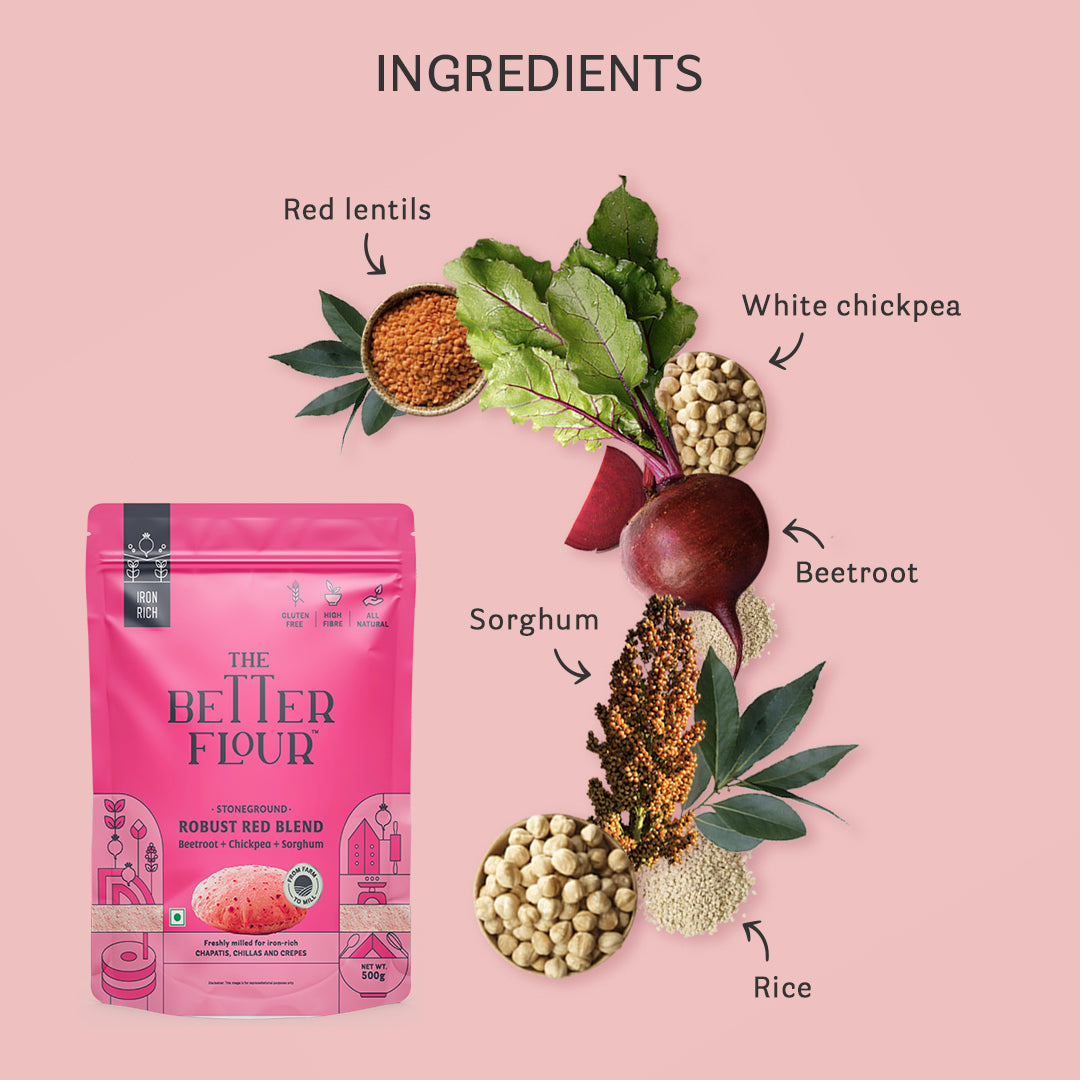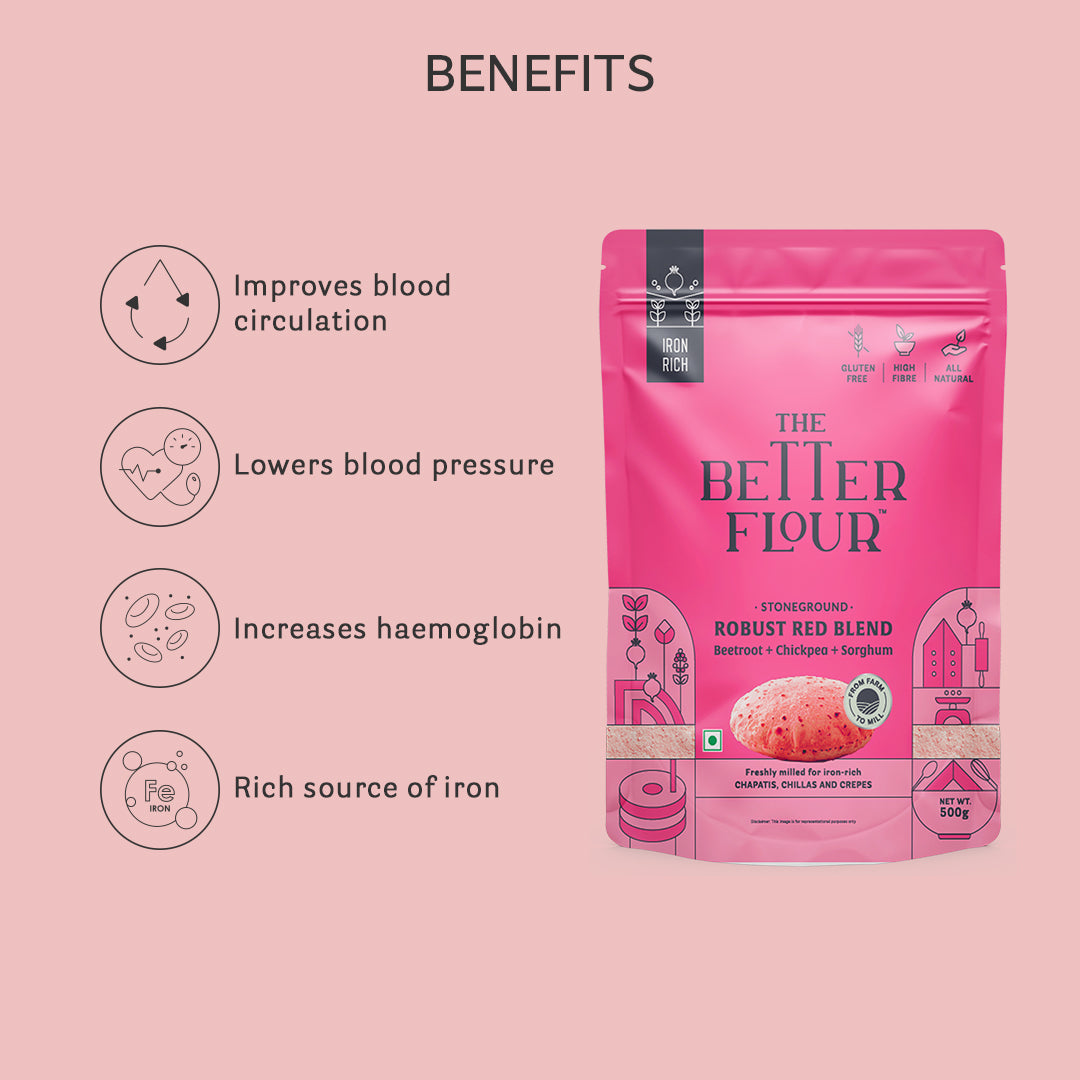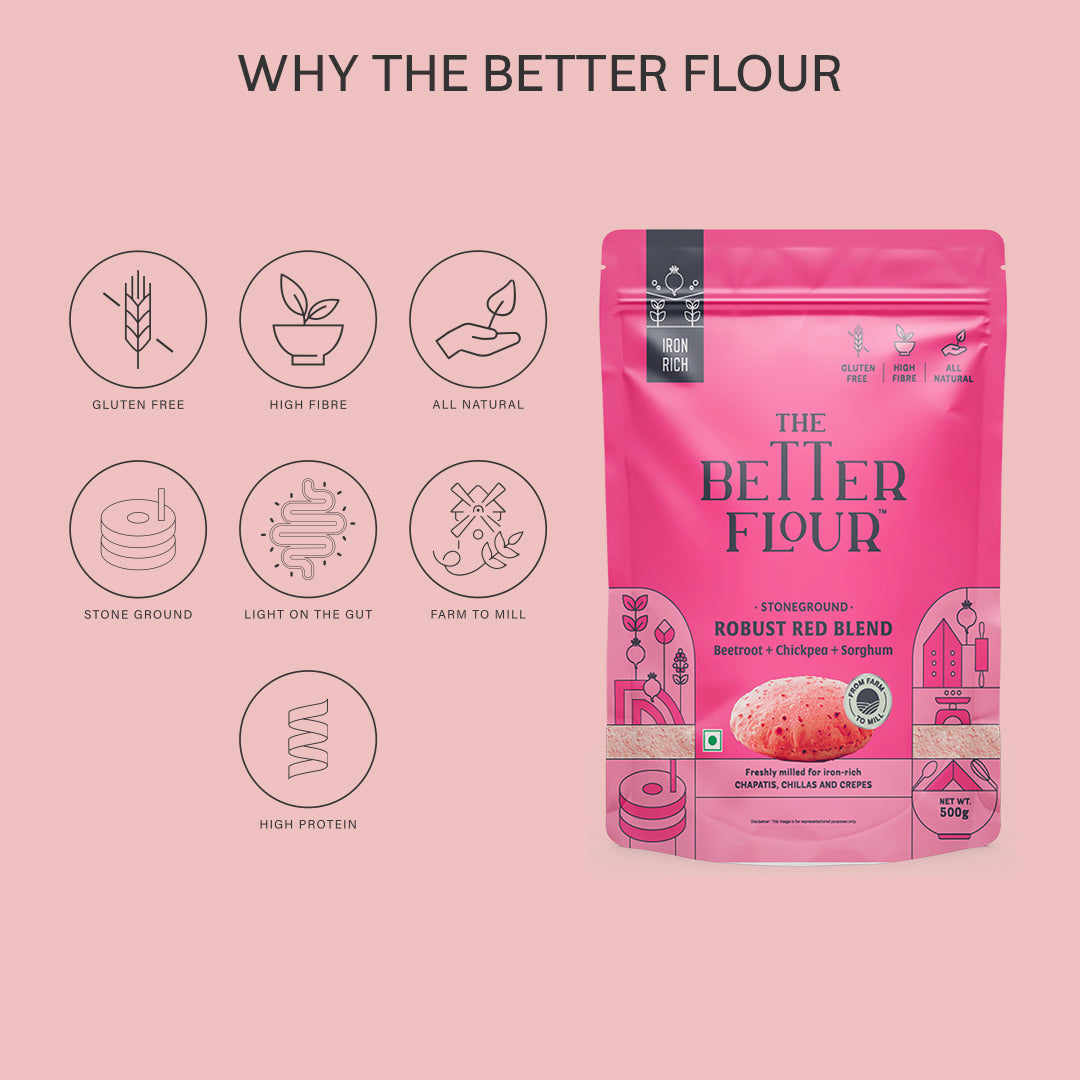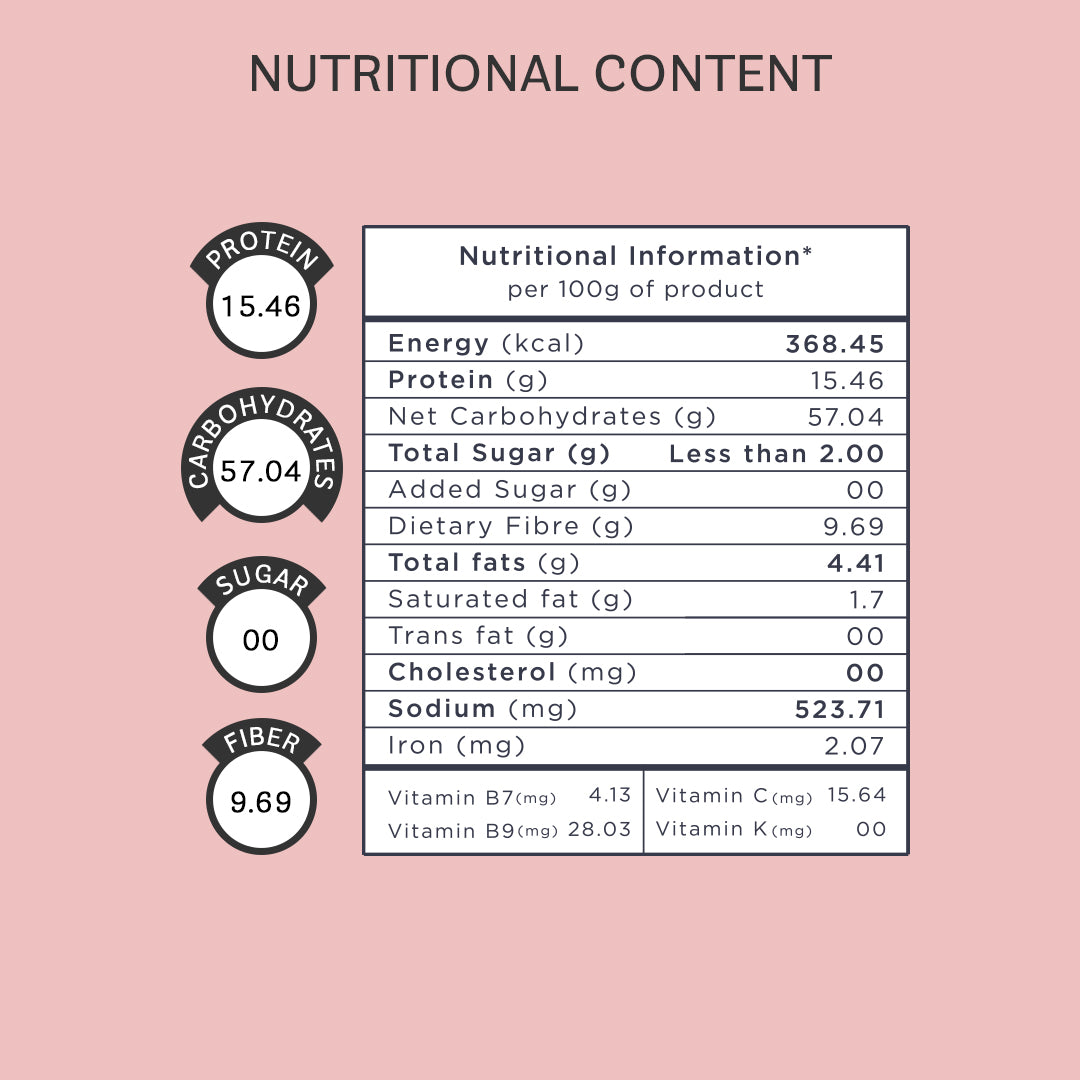 Description

The Robust Red Blend is made up of white chickpeas, beetroot and sorghum, which are key to a balanced diet. A rich source of iron, beetroot is essential for healthy blood circulation. It has a low glycemic index that helps in regulating blood sugar levels, making it an excellent choice for diabetics.

The versatile flour can be used in a number of ways from iron-rich chapatis, chillas, crepes and more. A delicious and easy-to-cook product to better your every day!

Why it's better?

1. Improves blood flow
2. Lowers blood pressure
3. Low Glycemic Index helps blood sugar regulation
4. Beetroot increases hemoglobin levels
5. White Chickpea improves metabolism
6. Sorghum has good lipids that help fight cholesterol and help in weight management
How to make chapatis

Boil ¾ cup (175 ml) of water for 1 minute

Take 1 cup (128g) of Flour Blend, add hot water and mix it well with a wooden spatula

Set aside for 5 to 10 minutes

Knead the flour into a dough and allow it to rest for 15 to 20 minutes

Roll the dough into chapatis

Cook both sides of the chapati on a pan

Briefly place it over the flame to let it puff up
Ingredients

Robust Red Flour Blend :

White Chickpeas, Sorghum, Rice, Urad Dal, Red Lentils, Dehydrated Beetroot Powder, Dehydrated Tomato Powder, Xanthum Gum, Salt
Information

• Name of the product : Robust Red Blend
• Country of Origin: India
• Name and Address of Manufacturer: Artha Industries, D 6/2, MIDC Phase II, Akola - 444104, Maharashtra, India
• Name and Address of Importer: Better Flour Pvt. Ltd., 509, Shah & Nahar, Off. Dr. E-Moses Road, Worli, Mumbai - 400018, Maharashtra, India
• Net Qty: 250g (Pack of 3) / 500g (pack of 3) / 500g (pack of 5) / 1kg (pack of 3) / 1kg (pack of 5)
• Expiry Date: 8 months from date of manufacturing

This is an awsm flour i loved its taste plus it is very good for health i ordered it for the first time and loved it so much chapatis made
by this are also very yummy i will definitely order it again
Its good. Looks really good once cooked but all you can feel is chickpea flour and nothing else. But overall its good.
Different flavour
I like that the brand has certain flavours. This flour enriched with beetroot chickpea and sorghum.Beetroot improves the blood flow, incease haemoglobin level and chickpea increase protein level.
Tasty flour
This flour is really good . It is tasty . Really loved it .
Amazing product
This better flour is just soo amazing. I like chillas a lot and with the help of this making chillas has become so easy for me.
RECIPES MADE BETTER
Inspire your next meal with one of these tasty, healthy recipes.